Dogs In Art
Q.
'Paint, write, sculpt what you know'. So, after more than a year locked in our homes, people are turning an artistic eye to their pets. Who are some of the more famous dogs in art?
.
A.
We'll start with the Brussels Griffon featured in our lead photo. Viewers continue to marvel at the remarkable realism with which Jan Van Eyck painted this furry companion in his 1434 Arnolfini Portrait. This most famous portrait of Italian cloth merchant Giovanni Arnolfini, and his fancifully green-dressed wife Giovanna Cenami hangs at the National Portrait Gallery in London. The ready for action dog here is said to represent fidelity – 'fido.'
Whether symbolic or literal representations of loving loyalty, a number of dogs have found their way into fancy paintings.
.
Lavinia Fontana. Portrait of a Noblewoman. 1580
•
Diego Velázquez. Las Meninas. 1656
•
Frans van Mieris. The Letter Writer. 1680
•
Jean Honoré Fragonard. The Love Letter. Early 1770s
•
Jan Adam Kruseman. Portrait of Alida Christina Assink. 1833
•
Nicholas Toussaint Charlet. Head of a Dog. ~ 1845
•
Rosa Bonheur. A Limier Briquet Hound. 1856
•
Édouard Manet. Tama, the Japanese Dog. 1875
•
August Renoir. Madame Georges Charpentier and her children. 1878
•
Thomas Eakins. The Artist's Wife and his Setter Dog. 1884-89
•
John Singer Sargent. Woman with Collie. After 1890
•
Edvard Munch. In the Kennel. 1913
•
Otto Dix. Hugo Erfurth with Dog. 1926
•
Edward Hopper. Cape Cod Evening. 1939
.
Frieda Kahlo. Self Portrait with Small Monkey. 1945
•
Pablo Picasso. Femme au chien. 1962
•
Roy Lichtenstein. Grrrrrrrrrrr!! 1965
•
Andy Warhol. Portrait of Maurice. 1976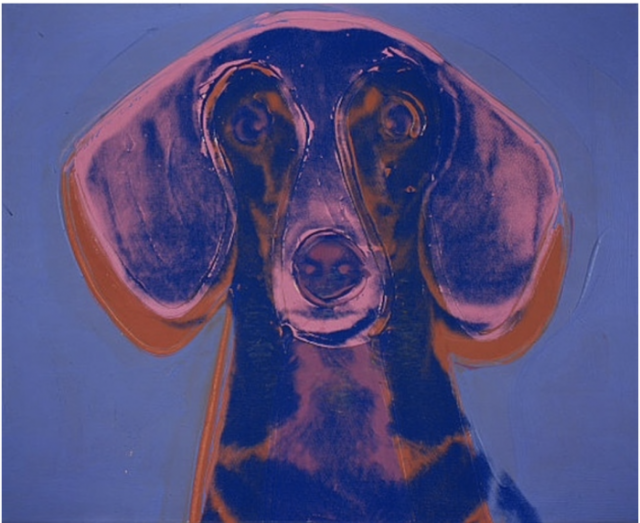 •.
Andy Warhol + Jean-Michel Basquiat. Untitled (Dogs). 1984
•
Lucien Freud. Double Portrait. 1985
•.
David Hockney. Dog Days. 1996
.
www.justcurious.ca