Wednesday Addams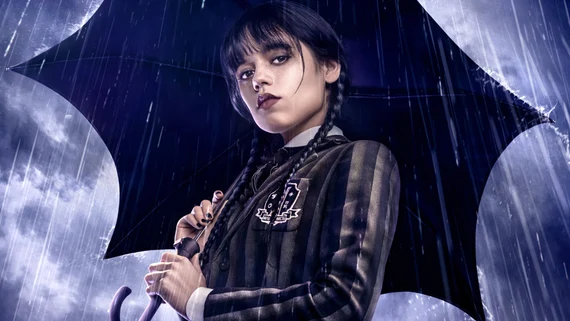 Q.
Chances are we'll see plenty of Wednesday Addams out and about this Halloween. She's an iconic character and a fantastic last minute costume choice for those of us with longish dark hair and access to a white-collared shirt. When and how did this bebraided character get her start?
.
A.
Google Trends Frightgeist does indeed list Wednesday Addams as one of the most-searched costumes for 2023.
Top 13 Most Searched Halloween Costumes 2023
i. Barbie
ii. Princess
iii. Spider-Man
iv. Witch
v. Fairy
vi. Wednesday Addams
vii. Dinosaur
viii. Cowboy
ix. Ninja
x. Bunny
xi. Rabbit
xii. Pirate
xiii. Princess Peach
.
The Addams Family originated from the hand of cartoonist Charles 'Chas' Addams who created this ghoulish family for the New Yorker. All sorts of wild lore swirled around Charles – he slept in a coffin, drank eyeball martinis, slept down the hall from a handcrafted guillotine,  married his own Morticia.
As Addams said in an interview with Linda H. Davis: "It would be more interesting, perhaps, if I had a ghastly childhood—chained to an iron bed and thrown a can of Alpo everyday. But I'm one of those strange people who actually had a happy childhood."
Adams did, however, nurture a dry, dark sense of humour.
Although some argue about when the first official Addams cartoon appeared – as the characters were initially unnamed – the New Yorkers' famed cartoon editor Bob Mankoff said: 'Addams only drew about two dozen "Addams family" cartoons, very few, if any, of which feature all the family members. The first one I can find with any of the recognizable characters is from 1938.'
.
.
.
Family fun, with boiling oil
.
And here comes Wednesday (though she was not yet so named)  …
.
.
The 'Wednesday' name did not come to be until she was portrayed by Lisa Losing in the 1964 TV series.
.
.
And now, of course, Wednesday has a series of her own…
.
www.justcurious.ca