Honey Do
Q.
Sweet as honey. A taste of honey. A honey of a deal. You're my honey (as long as you complete your 'to do' list) How did honey, of all the sugary alternatives, come to epitomize the ultimate, love-worthy sweetness?
.
A.
Sweet, sweet honey finds it place in the Bible's Book of Exodus. 'And I am come down to deliver them out of the hand of the Egyptians, and to bring them up out of that land unto a good land and a large, unto a land flowing with milk and honey.'
Many believe this wonder food of the bees offers edible magic beyond its natural sweetness. Honey will give you wisdom if, said Zeus, you start eating it young and if, adds Pythagoras, you eat it a lot.
Not all were fans of humans eating honey.  In her much-read Hildegard's Healing Plants, Medieval mystic Hildegard Von Bingen wrote: 'If a person who is fat and has thick flesh eats honey often, it prepares decay in the person. If a person who is thin and dry eats cooked honey, the person is harmed by it. If a person eats the honeycomb wax, it makes them melancholy and thus harms them. It makes them heavy and thus increases their melancholy.'.
.
Cup of Honey. Konstantin Makovsky. 1890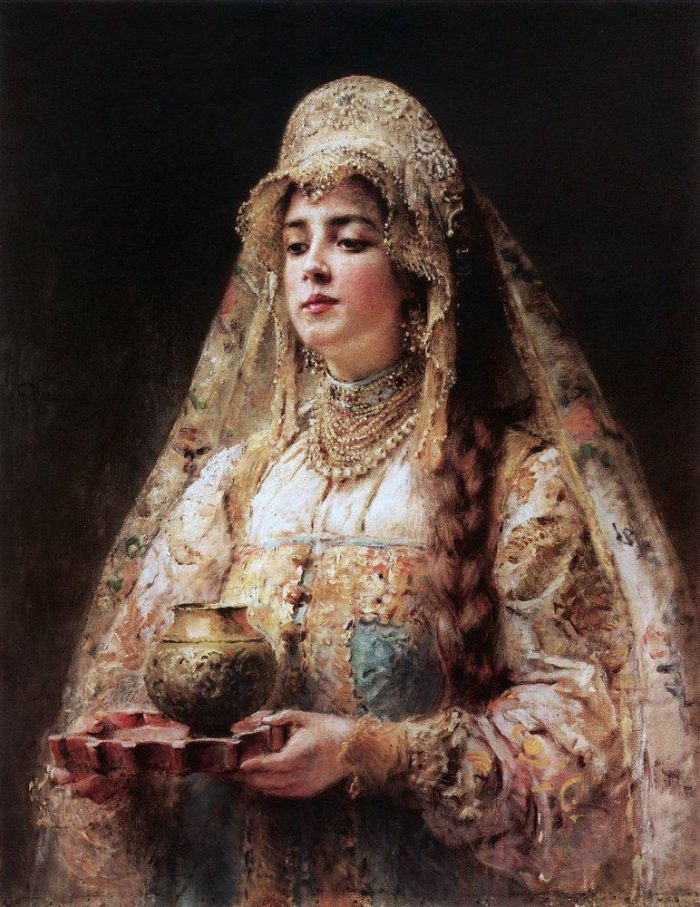 .
Romans, however, would put honey in their sacrifices to becalm the god of the underworld so he wouldn't terrorize them with volcanic lava. Folk myths said that if you rub your eyes (not recommended) and lips with this liquid bee goodness, you would forever change the way you see and speak. Linked to immortality, honey was used in ancient funeral rituals. The dead were even buried with honey to savour in the next life. Oh, and it's also supposed to be an aphrodisiac.
It's a lot. With all that honey is expected to do, we'll play out this sweet liquid – and the hard-working bees who create it – with 'Sugar. Oh, Honey, Honey' from the OG Riverdale.
.
.