Oxford Or Seuss?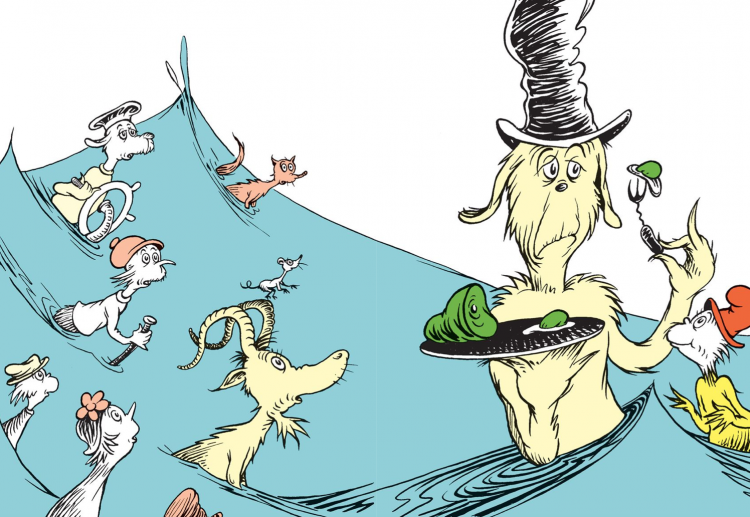 Q.
Sixty years! It's been sixty years since the brilliant Dr. Seuss – aka Theodor Seuss Geisel – wrote Green Eggs and Ham. 'I do not like them, Sam-I-am. I do not like green eggs and ham.'
One of Seuss' great gifts was his ability to make up words that are as absurd as they are plausible. So, in his honour, we'll ask: how good are we at distinguishing dictionary words from Seuss words?
.
A.
Oxford or 🎈Seuss?
• Barbaloots
• Bogle
• Buckfitch
• Bumplings
• Chimbley
• Cumberground
• Dermoglymics
• Fibbel
• Gollop
• Grawlix
• Hawtcher
• Jobbernowl
• Loblolly
• Mawtch
• Natterjack
• Nureau
• Quirkles
• Rippulous
• Sneaksby
• Snerl
• Snollygoster
• Snood
• Spillikin
• Spissitude
• Umbus
• Wifty
• Wista
• Zower
.
.
Theodor says…
🎈Barbaloots
You might have seen these fuzzy brown creatures in the Truffula trees.
Bogle
A phantom or goblin.
Buckfitch
A lecherous older man.
🎈 Bumplings
Tempting blueberry treats.
🎈Chimbley
A Seussian chimney.
Cumberground
Useless, worthless, nothing more than in the way.
🎈 Dermoglymics
Medical signage at the Golden Years Clinic on Century Square.
🎈 Fibbel
A circus animal who carries the Flummox's tail.
Gollop
To gulp quickly and greedily.
Grawlix
@#$%. Characters used to denote swearing, commonly seen in comic books.
🎈Hawtcher
Someone from Hawtch-Hawtch
Jobbernowl
A foolish person rather lacking in brains.
Loblolly
Thick porridge
🎈Mawtch
Another way to say 'much'.
Natterjack
A toad whose back features a bright yellow stripe.
🎈Nureau
Could this creature be hiding in your bureau?
🎈Quirkles
Decoration well-suited to a necktie.
🎈 Rippulous
A pond. Previously home to the Humming Fish in the world of The Lorax.
Sneaksby
A sneaky, mean-spirited coward.
🎈Snerl
A special kind of snarl.
Snollygoster
An unscrupulous, plotting person. Often applied to politicians.
Snood
A hairnet.
Spillikin
A splinter. Thin strips of wood, straw, or plastic used in the game 'spillikin', 'pick-up sticks' or 'jackstraws.'
Spissitude
Thick, dense.
🎈Umbus
A 'sort of a cow.'
Wifty
Vague, scatterbrained, muddled.
🎈Wista
"Fista, vista, mista-cuff" – a magician's spell
🎈Zower
A creature who lives in the shower.
.
.
Happy Anniversary to Sam-I-Am and his Green Eggs and Ham.
www.justcurious.ca