The Sweetest Flower
Q.
Which flower has the most entrancing scent?
A.
'The rose looks fair, but fairer we it deem
For that sweet odour which doth in it live….'
So writes William Shakespeare in Sonnet 54. Does the rose have an uncommonly sweet odour? Do we deem it fairer because of its scent? Is Shakespeare right?
Of course he's right. Bill knows his business. Gardening Magazine asked 3500 members to identify their favourite flowers by scent.
Top 5 Flowers By Scent
i. Roses (with an emphatic win)
ii. Sweet Peas
iii. Honeysuckle
iv. Lavender
v. Jasmine
.
Rachel Ruysch. Flowers in a Glass Vase with a Tulip. 1716
.
Shakespeare's poll-loving fellow Brits agree. Country Living reported out on a 2017 poll asking 2000 Brits to identify their favourite flowers. Once again roses came out tops. Good thing, as the red Tudor rose is also England's national flower..
Their Favourite Flowers
Roses
Lilies
Tulip
Daffodil
Sunflower
Orchid
Carnation
Bluebell
Freesia
Poppy
Sweetpea
Snowdrops
Lilly of the Valley
Gerbera
Peony

♥

Dahlia
Daisy
Foxglove
Magnolia
Iris
Forget-me-not
Violets
Pansy
Chrysanthemum
Lilac
Snapdragon
Lupin
Hyacinth
Dandelion
Hydrangea
.
Rachel Ruysch. Spray of Flowers, with a Beetle on a Stone Balustrade. 1741.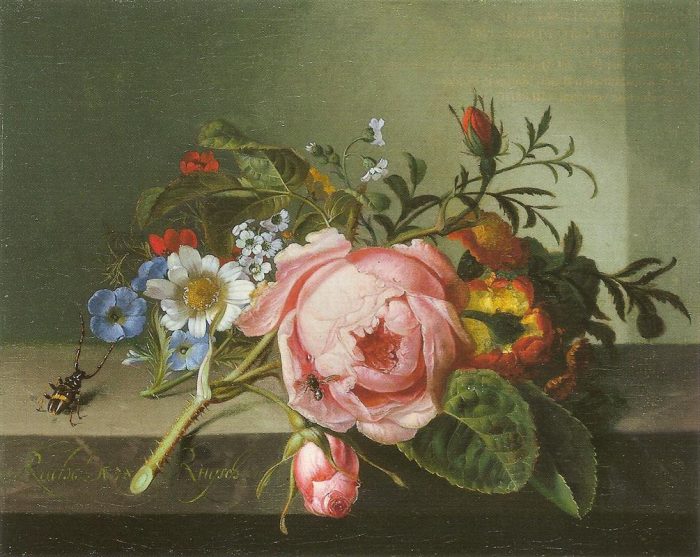 ..
So, as the holiday season inches near: If your loved one is into gardening, are sweet-scented roses a safe gift purchase?
Well, not necessarily. In 2019, BBC's Gardener's Magazine revealed the garden plant that topped their 'most hated' polls. Turned out, it was the same plant that topped their 'most loved' polls: the rose. While some gardeners love to stop and smell their multi-hued roses, others complain of aphids, thorns and high maintenance tending.
.
Flowers in a Glass Vase with Fruit. Jan Davidsz. de Heem. ~ 1665
Gardener's Magazine Most Divisive Plants
Rose
Dahlias ♥
Lavender
Hydrangeas
Hardy Geraniums
Euphorbias
Periwinkle
Ivy
Begonias
Bamboo
.
There is one rose that even Shakespeare can't get behind: the dog-rose, or the canker bloom  – sonnet anti-hero..
.
Jan van Huysum. Still Life with Flowers and Fruit. 1715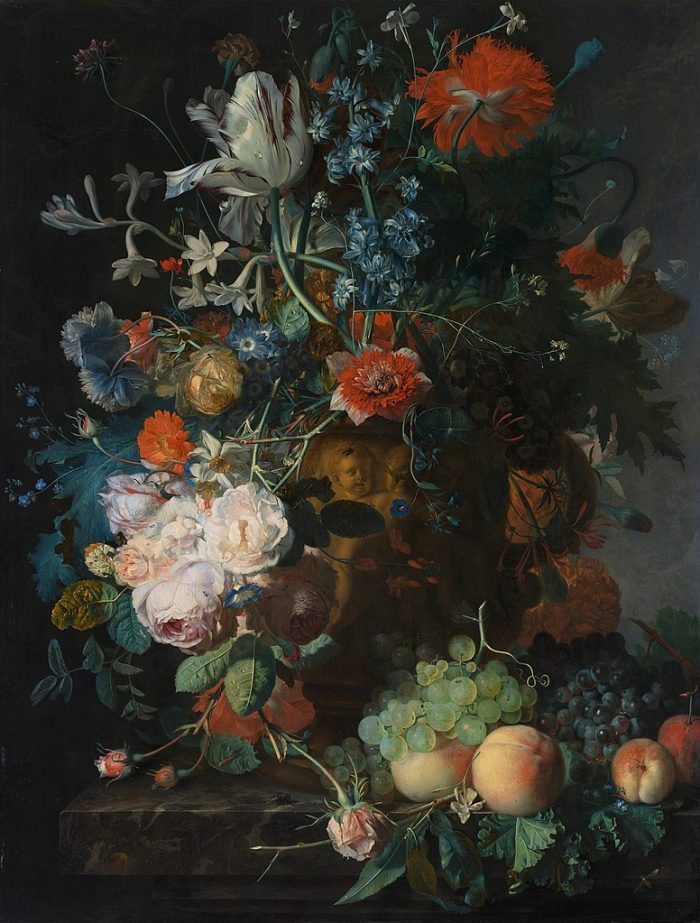 .
Sonnet 54. William Shakespeare. 1609
O how much more doth beauty beauteous seem,
By that sweet ornament which truth doth give!
The rose looks fair, but fairer we it deem
For that sweet odour which doth in it live.
The canker-blooms have full as deep a dye
As the perfumed tincture of the roses,
Hang on such thorns and play as wantonly
When summer's breath their masked buds discloses:
But, for their virtue only is their show,
They live unwoo'd and unrespected fade,
Die to themselves. Sweet roses do not so;
Of their sweet deaths are sweetest odours made:
And so of you, beauteous and lovely youth,
When that shall fade, my verse distills your truth.
.
www.justcurious.ca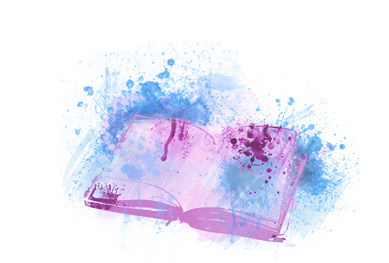 Header Photo: Jan Davidsz. de Heem. Still Life with Flowers in a Glass Vase. 1650-83