Dinner With Louis
Q.
If you were lucky (?) enough to be invited to feast with the ravenous King Louis XIV, what would you be expected to eat?
.
A.
Well, here's a peek at a Sun King party menu that was recreated by chefs at the Palace of Versailles in 2010. A word of advice for those who dine: wear your stretchiest lockdown pants.
First Service
Les Hors d'œuvre
Royal ballotine of pheasant
Petit pâté en croûte à la bourgeoise
Fresh deep-sea oysters
Lobster aspic chaud-froid
Les Potages
Beef madrilène with gold leaf spangles
Pureed chestnut soup with truffles from the Court of Italy
Bisque of shellfish from our coasts with a boletus infusion
Pumpkin soup, fresh from the royal vegetable garden
Second Service
Les Rôts
Scallops with oyster liquor
Wild duck cromesquis à la Villeroy
Hare stew
Roast beef, carrots and smoked eel
Wild salmon au sel
.
Réception du Grand Condé par Louis XIV (Versailles, 1674). Jean-Léon Gérôme. 1878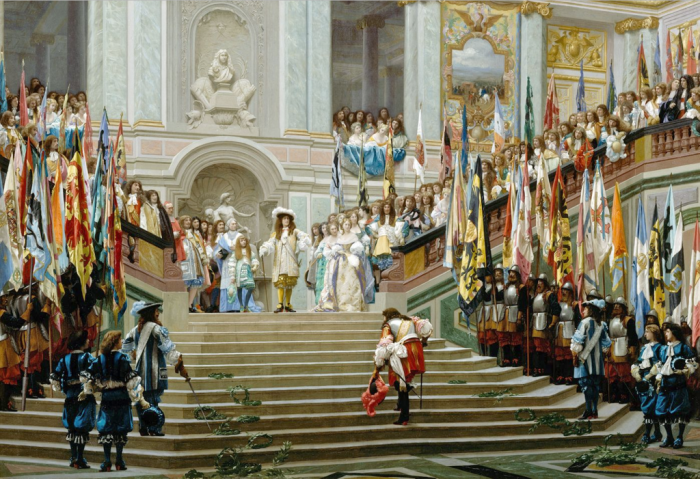 .
Third Service
Les Entremets
Green and fresh herb salad in gold leaf
Rice salad à la royale
Morel soufflé
Iced cheese
Hard-boiled egg
As you stumbled towards Last Service, you might spy the unusual, last (phew!) dish: an Edible Candle. First, though, you'd need to select your dessert from the Fruit course.
Much of the 'Fruit' for Louis XIV was harvested from his thousands of palace trees. One of his favourite ways to serve it? In jams spooned carefully into a long row of carved silver dishes. But which flavour jam to choose? Orange, apple, pear, fig, grape…?
As you can imagine, and as science confirms, all this jam choice could be overwhelming. Indeed, in a 21stCentury study, Stanford University's Mark Lepper and Columbia's Sheena Iyengar found that too much choice can be overwhelming and demotivating.
.
From Woven Gold. Tapestries of Louis XIV @ The Getty Museum.2015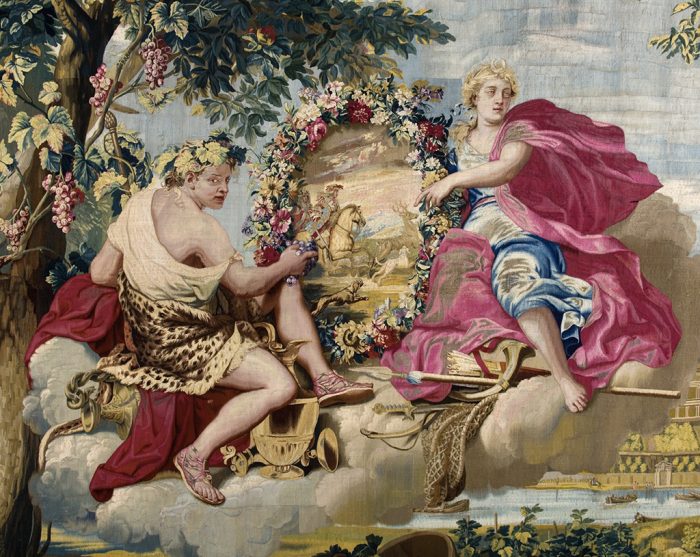 .
In their well-controlled field experiments, Lepper and Iyengar found that people were significantly more likely to buy gourmet jam when they were limited to 6 choices than when they were faced with 24 to 30 varieties.
'Study 1 showed that although more consumers were attracted to a tasting booth when the display included 24 flavors of jam rather than 6, consumers were subsequently much more likely to purchase jam if they had encountered the display of only 6 jams.'
These limited jam choice buyers also reported being more satisfied with their purchases.
So, know you're not alone in feeling overwhelmed when Louis expects you to somehow choose between silver-nestled jam after jam after jam.
www.justcurious.ca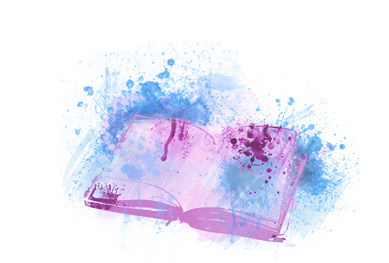 Header: Louis XIV et la famille royale. Jean Nocret. 1670