Fall Favourites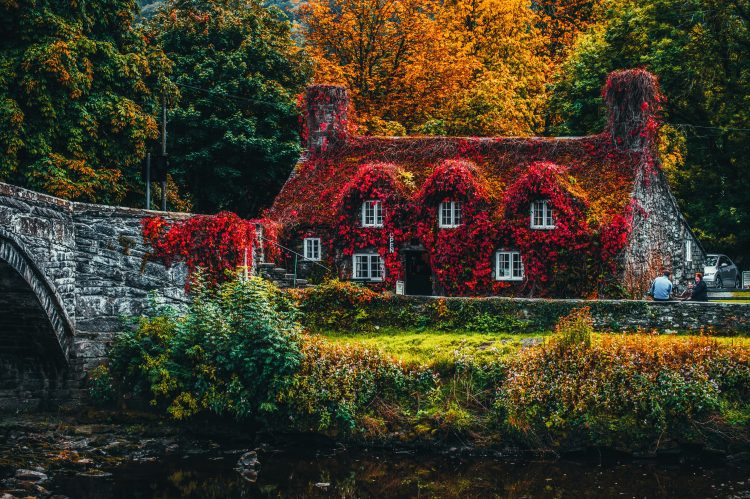 Q.
Chapter 16 of Lucy Maud Montgomery's 'Anne of Green Gables' doesn't bring us to a blissful cozy place with its title: 'Diana Is Invited To Tea With Tragic Results'. Soon, however, Anne is delighting in the glories of a Prince Edward Island Fall.
🍄
'October was a beautiful month at Green Gables, when the birches in the hollow turned as golden as sunshine and the maples behind the orchard were royal crimson and the wild cherry trees along the lane put on the loveliest shades of dark red and bronzy green, while the fields sunned themselves in aftermaths.
Anne reveled in the world of color about her.
"Oh, Marilla," she exclaimed one Saturday morning, coming dancing in with her arms full of gorgeous boughs" 'I'm so glad I live in a world where there are Octobers..'
🍄
What are some of the things that people appreciate most about Autumn?
.
A.
Well, according to a poll of 2000 adults – conducted in the US by One Poll  – it's the changing leaves and the crisp in the air that are most appreciated.
Which of your favourites are on this list? I see no Back to School rituals or memories here. As a child did your heart leap or plotz at the thought of a new school year?
Top 30 Favourites of Fall
Watching the leaves change colour
The chill in the air
Drinking hot chocolate
Getting ready for the holidays
Making homemade soup
Beginning to cook holiday foods
Watching Halloween movies
Wearing big sweaters
Listening to the sound of rain on my roof
Lighting seasonal candles
Baking pies
Having cinnamon apple food/drinks
Making pumpkin pie
Having pumpkin spice food/drinks
Drinking hot apple cider
Carving pumpkins
Wearing chunky socks and boots
Stepping on crunchy leaves
Wearing plaid/flannels
Baking pumpkin bread
Going "leaf peeping" 📷
Having a backyard campfire with friends
Seeing my breath when walking outside
Roasting marshmallows
Eating candy apples
Taking fall-themed photos
Seeing frost on the grass
Going pumpkin picking
Eating pumpkin seeds
Wearing scarves
.
www.justcurious.ca