Wintry Words
Q.
Here in B.C. – as in much of the world –  we are breaking ❄️ temperature records all over the place, and looking at unusually high mounds of snow. What are some forgotten or little used words related to winter, snow, and cold?
.
A.
Algid
Feeling cold or chilly
Apricity
That wonderful moment when the sun breaks through and warms up a cold winter's day
Conglaciate
To turn to ice
Corrugate
To wrinkle up, such as skin when it is affected by serious cold
Croodle
To snuggle together to keep warm
Cryophilic
Something – or someone – that flourishes when temperatures are low
Didder
To shiver or tremble
Flakelet
A tiny snowflake
Frazil
Slushy ice in rough waters
Frigorifick
That which causes cold
.
Alex Colville. Traveller. 1992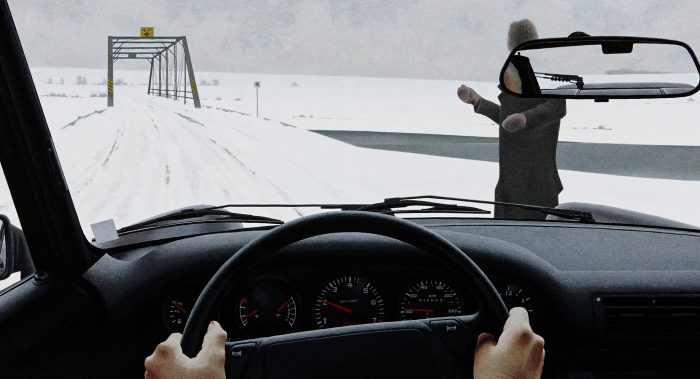 .
Frore
Frosty or frozen
Gelid
Utterly and icily cold
Graupel
Grainy pellets of snow
Grue
Floating sheets of ice
Hiemal
Things relating to winter
Horripilation
Your hairs are standing straight up in your skin, here from the cold
Hygge
If you've watched 'Frozen: The Broadway Musical', you know the sauna-loving Oaken and his euphonious definitions of Hygge. Danes and Norwegians know of what he speaks …
'Hygge means comfortable
Hygge means cozy
Hygge means sitting by the fire with your cheeks all rosy…'
.
Alex Colville. Skater. 1964

.
Lubric / Lubrick / Lubricous
Slippery
Nither
Shivering from the cold
Onding
A downpouring of snow or rain
Shrammed
To the bone cold – everything hurts, that is if you can feel it.
Sitzmark
Did you falter on your skis and fall backwards? That mark you left in the snow is called a 'sitzmark'.
Skift
Lightly falling snow or rain
Slidder
To slide without stopping
Slippy
Slippery. We may still use this word regularly, but 18th Century author Samuel Johnson would not approve. 'Slippy', he wrote in his 1755 dictionary, is 'a barbarous provincial word'.
Sposh
Slushy snow
Subnivean
Buried or happening under the snow
Tepefaction
To warm slightly
.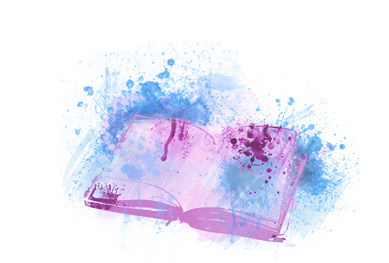 Header Art: Alex Colville. Snow Plow. 1967